100% Nature
The Twisp ecological mattress made of 100% natural latex and organic cotton adapts to your lying position with its 7 comfort zones.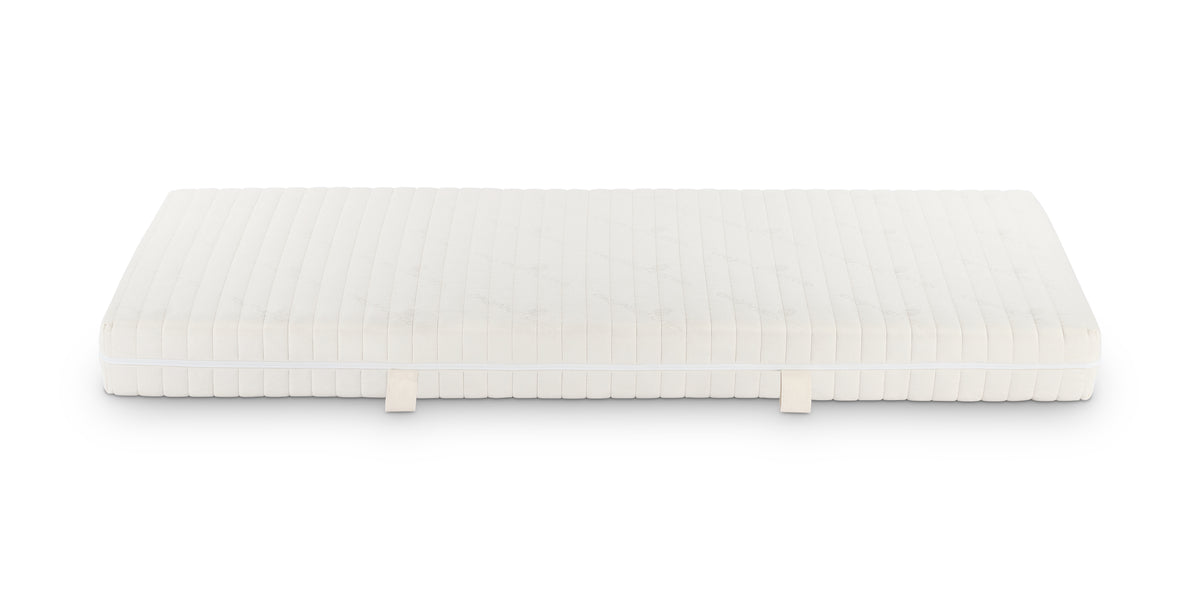 Dimensionally stable, durable and moisture-regulating
In addition to its good lying properties, latex is characterised by good thermal insulation and long durability, so that even in 10 years the mattress will still be as dimensionally stable as on the first day.
The cover of Twisp is quilted with a layer of wool that regulates heat and moisture and ensures a pleasant sleeping climate in all seasons.
You can use Twisp for all types of slatted frames.
100% Natural
The Twisp latex mattress is made of 100% natural materials that have been tested for their health compatibility:
15cm core of 100% natural latex (QUL certified)
100% cotton jersey cover (controlled organic cultivation)
100% cotton understitching 500g/m2 (controlled organic cultivation)
All-round cover made of 100% cotton drill (controlled organic cultivation) with zip
Adapts to your back
Compared to other mattresses, latex mattresses offer the best point elasticity, i.e. the mattress only gives way where it is loaded. This ensures that your spine is always in its natural position.
In addition, Twisp adapts perfectly to your lying position thanks to seven symmetrical comfort zones - whether you sleep on your side, on your stomach or on your back.
Two degrees of hardness
Twisp is available in Medium (comparable with H2) and Solid (comparable with H3).
In addition to your personal preferences, your figure also determines whether the mattress feels firm or soft. The adjacent graphic should help you decide which mattress is the right one for you. We would advise very heavy people to choose our natural mattress Koje, as cold foam can achieve a higher firmness than natural latex.
If two partners prefer different degrees of firmness, it is recommended to place two narrow mattresses next to each other for double beds from 160cm width.