A well-rounded affair
Round tables promote communication and this one looks really good at the same time. Configure the table to suit your individual taste.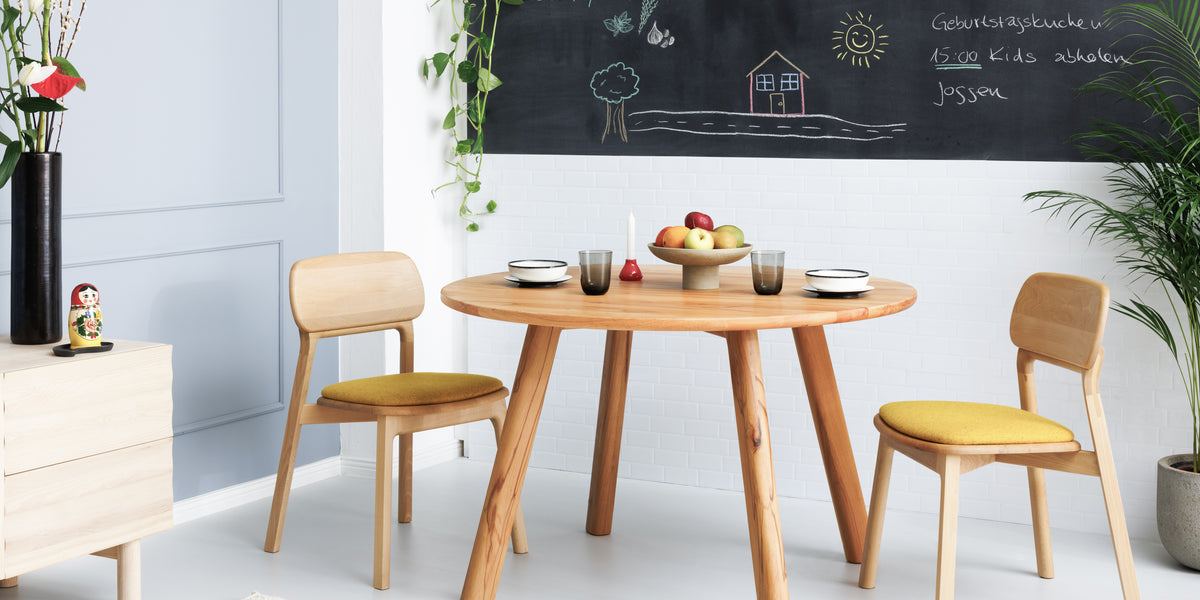 Beautiful grain
You can order the round dining table form A in a wood type of your choice. The certified solid wood is reinforced on the underside with metal burr strips to keep the table top nice and straight. The gluing of the bars (long pieces of wood) creates a particularly beautifully grained surface.
Runs smoothly
The table legs are rounded and slightly bevelled. For the table top you can choose between four different edge finishes from very round to pointed.
Naturally oiled
The wood is treated three times with an ecological furniture oil: Natural oiled enhances the grain of the wood, light oiled preserves the original colour of the wood with white pigments. The wood can breathe through the oil and the dining table will be very dirt-repellent. In contrast to lacquers, the surface can be easily refreshed or repaired e.g. with our furniture oil kits.
More colours with linoleum
If you want to bring some extra colour into your home, a linoleum surface is the way to go. Our linoleum is a natural product made from renewable raw materials, also has a pleasant, warm touch and is easy to clean. Choose one of the elegant dark tones or a bright, eye-catching colour.