From round to oval
Extend the Round Dining Table Form F by two more seats in no time at all.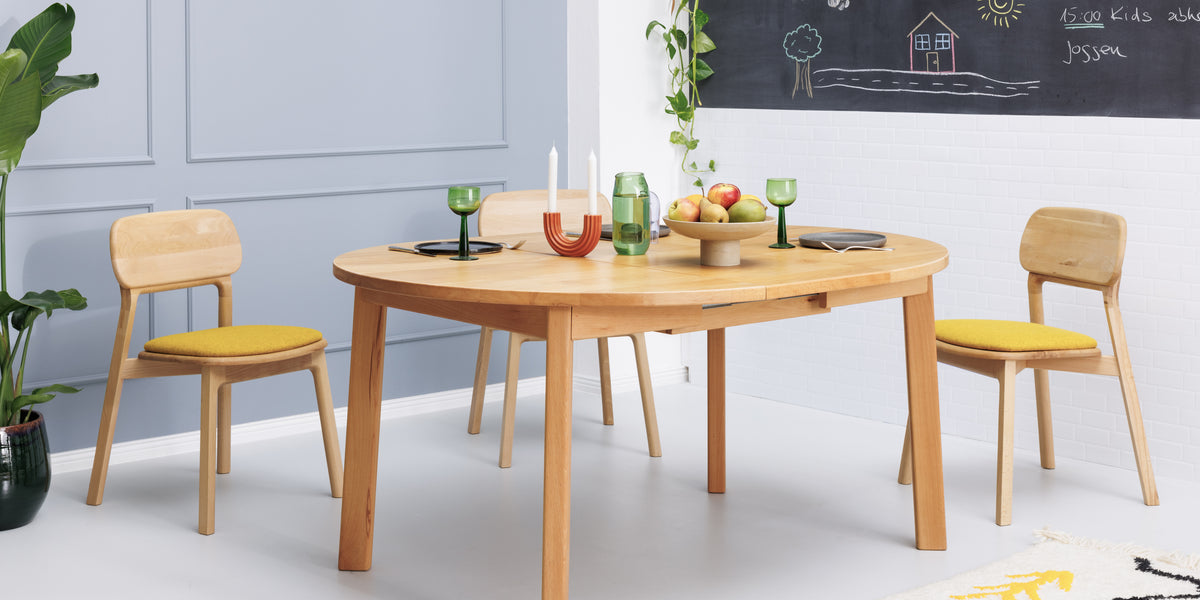 Every table is unique
The large table surface creates unique and impressive grains. The certified solid wood is reinforced on the underside with metal burr strips in addition to the stabilising frames, so that the table top remains beautifully straight. The stable table legs are slightly tilted and the edges are rounded.
Easliy extendable
If necessary, you can easily pull the table top apart and extend it by a 50cm wide extension panel with the comfort folding function.
We use proven quality components for solid wood tables. The extension plate has milled handles, making it easy for one person to fold it out. Even when extended, the table does not lose any of its stability and sturdiness.
Natural indoor climate
The solid wood is treated three times with an ecological furniture oil. Naturally oiled, the wood gets a stronger colour tone, which emphasises the grain. Lightly oiled preserves the original light colour of the wood by white pigments.
The wood can continue to breathe through the oil, but at the same time it is dirt-repellent. In contrast to lacquers, the surface can be easily refreshed or repaired e.g. with our furniture oil kits.
More colours with linoleum
If you want to bring some extra colour into your home, a linoleum surface is the way to go. Our linoleum is a natural product made from renewable raw materials, also has a pleasant, warm touch and is easy to clean. Choose one of the elegant dark tones or a bright, eye-catching colour.