---
Wega the shelf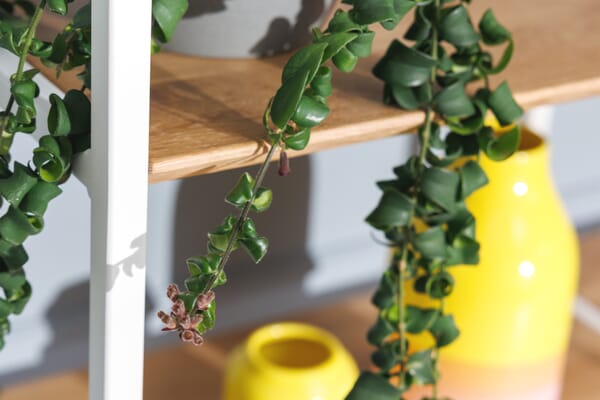 Light & stylish
Due to the slim frames and narrow milled edge shelves, comes Wega very stylish across. Thanks to the powder-coated steel frames, requires the shelf less material and is still extremely stable. The adjustable feet compensate for any unevenness in the floor.
Ecologically oiled oak
All wooden parts are made of solid, carefully selected oak and are treated with an ecological furniture oil made of natural raw materials. A small amount of white pigment gently lightens the oak, as if it had just been freshly cut.
Modules with doors or drawers
Du kannst die Regalfächer durch ein Türmodul oder ein Schubladenmodul ersetzen. Die Fronten haben weich gerundete Griffe und schließen sanft mit Soft-Close Funktion.
Here's how: Assemble your own shelf
1. Choose a frame in the height of your choice

One frame includes two outer shelf frames in the following heights:

204,5 cm
90,5 cm
72,5 cm
52,5 cm


The shelf Wega is 40cm deep. When mounting on the wall, baseboards can be bypassed with adjacent spacers. Uneven floors can be compensated for by discreet adjustable feet.

2. Choose the width of your shelf

A Wega shelf with only one frame is 64cm wide. You can extend the shelf with a center element by 62cm each.

3. Choose shelves, doors or

You need the following shelves per column:

Shelf Wega 2040: 6 shelves
Highboard Wega 900: 3 shelves
Sideboard Wega 720: 3 shelves
Lowboard Wega 520: 2 shelves

You can optionally order the following drawer or door modules instead of shelves per shelf column. One shelf per column is not replaceable.

Shelf Wega 2040: 1 - 5 drawers or doors
Highboard Wega 900: 1 - 2 drawers or doors
Sideboard Wega 720: 1 - 2 drawers or doors
Lowboard Wega 520: 1 drawers or doors
Any questions?
We would happily assist you in putting your shelf together. A configuration can be sent upon request.